Authentic Relating – evening of play
Sat, Aug 8th, 6-8:30pm Lisbon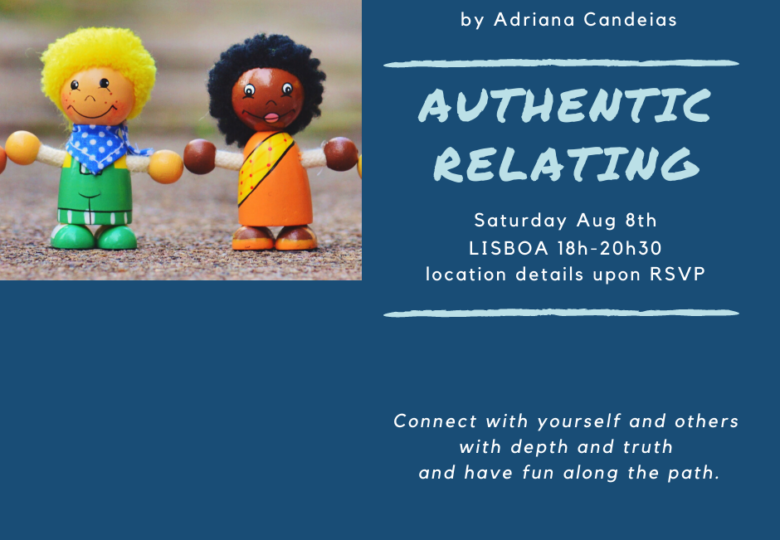 Can I cut the chase and connect with another at a deeper level sooner than later?

Is it possible to express my opinion and still feel welcomed by those who disagree with me?

How can I show my real self even through the disconnection of physical distancing?
There has never been a better time to prioritise meaningful relationships and to place our attention onto matters that makes us feel connected and part of the whole.
AUTHENTIC RELATING Practice workshop
⭐️ Saturday, Aug 8th
⭐️ 6:00 pm – 8:30 pm
⭐️ Lisbon (RSVP for details)
⭐️ Gift €15 (concessions and multiple ticket discount available)
Authentic Relating is a relational technology that help us interact with others at a deeper level, appreciate the diversity amongst us and transforming conflict. 
It is exploding around the globe because it is easy to learn and incredibly practical to apply with friends & family, partners, at work, and even those we meet for the first time.
This is an evening of learning and practice for all, whether you are a seasoned communicator or a total beginner.  We will go through a series of verbal exercises designed to give you an experience of AR that you should be able to apply and develop in your real life straight away. 
 THIS IS FOR YOU if you want to
~ bring wholeness into your interactions with friends, family, and team mates. 
~ communicate deeper, with compassion and empathy even in the middle of conflict
~ learn an embodied practice that makes you a leader and takes your personal development to a new level of awareness.
(Please note the workshop is likely to be facilitated in English. Participants may use their favourite language when doing the exercises.)
 TESTIMONIALS
"I loved the energy through the whole workshop and your ability to teach so much in so little time.  I want you to know that, even after all these months, I have been applying a new way of communicating in my relationships."
"I found Adriana to be open, vulnerable, strong and magical in her facilitation. It was so refreshing to observe her working and being authentic."
BOOKING & LOCATION
Due to physical distancing rules, numbers are highly restricted.
Please click here to confirm your place.
You will receive a confirmation email with details for payment.
Tickets for courses with limited seats are allocated by order of payment.
(Contact me directly for any clarification)

AUTHENTIC RELATING IS NOT
– theoretic
– conscious community exclusive
– doctrine, creed, dogma
AUTHENTIC RELATING IS
– applicable to real life situations
– embodiment and pragmatism
– amazing at team building (digital remote too!)
– supportive to community building
– all welcoming.
WHY I DO THIS
"I have spent the last 10 years researching the impact of our relationships in our general wellbeing and have developed a successful holistic approach helping clients overcoming trauma, intimacy blockages and conflict.  Authentic Relating provides me with empowering tools which I pass onto my clients regardless of their experience level.  I have trained with the Authentic Relating International and have since worked alongside an amazing community of facilitators who are as passionate as committed to share these practices and to see the potential results of their application in a more connected world."
ABOUT ME
I am an experienced tutor and speaker in the wellness industry, supporting my clients achieving and maintaining excellent wellbeing.
As a researcher, I started by investigating the function of ecosystems and have been applying the concept of sustainability to human health and relationships. Applying my strong educational professional skills in functional health, nutrition, stress & relationships management, corporative culture, mindfulness & yoga, I have founded the Applied Sustainable Health platform facilitating workshops on leadership and wellness, as well as CPD courses on Primal Health, Kundalini Yoga, and Authentic Relating. I am the creator and mentor at the WOMAN OF ME programme and moderate the associated online international community of thriving women.
Passionate about what makes us healthy and connected, I lecture on the role of pleasure in the healing of trauma and I am devoted to the creation of equitable, prosperous and multi cultural diverse communities.
Please click here to confirm your place.