Creative Relationships – evening of play
Sun, Aug 9th, 6-8:30 pm, Lisbon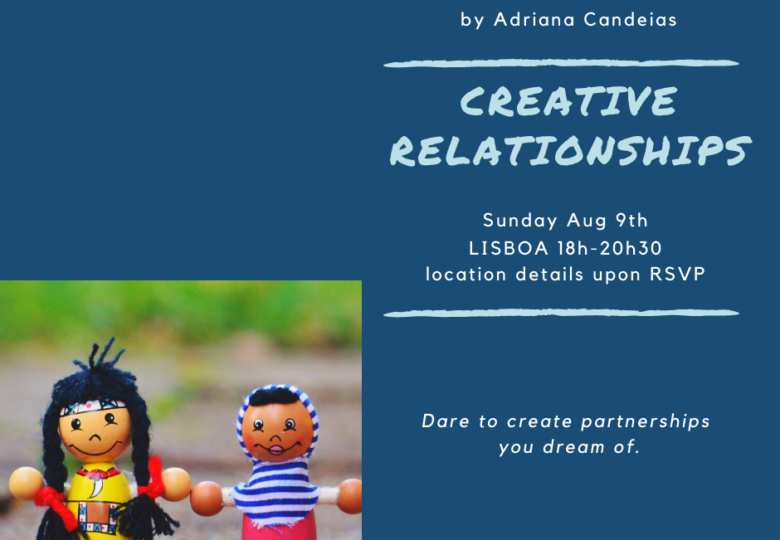 Can I speak my truth and still feel loved and welcomed?

Is there a way of finding endless fun and inspiration in my intimate relationships?

How would it look like if I could design honest and fulfilling partnerships?

If our relationships are such an important factor for our wellbeing, it is only natural we want to choose who we want to interact with and how we want to develop those interactions. 
This is an evening of learning and practice for all levels of experience and suitable for those focusing on intimate as well as business partnerships.  We will go through a series of exercises designed to cover one of the most fundamental variables in creating the relationships you want: the CONTAINER.
CREATIVE RELATIONSHIPS – Practice Workshop
⭐️ Sunday, Aug 9th
⭐️ 6:00 pm – 8:30 pm
⭐️ Lisbon (RSVP for details)
⭐️ Gift €15 (concessions and multiple ticket discount available)
⭐️ Book here: https://forms.gle/Pjg3JY8qfh6ZxfWv7
THIS FOR YOU
Whether you are single or partnered, and you wish to:
~ have deep and intimate interactions with real people
~ explore your limitations and take yourself to a new level of self awareness
~ communicate your truth even through the fear of abandonment and rejection
~ understand the common variables that help us navigate all types of partnerships, whether intimate or not, with friends and co-workers, best-friends and strangers.
(Please note the workshop is likely to be facilitated in English. Participants may use their favourite language when doing the exercises.)
WHAT HAPPENS
Our Creative Relationships © programme is delivered in several formats including this short evening courses where we deepen one particular concept through verbal exercises and reflection.  We also reserve time to discuss ways to apply this into our real life.  Please expect to interact with others, whilst having enough room to do what feels right to you. 
Participation is open to all levels of experience, from professional communicators to total beginners. 
BOOKING & LOCATION
Due to physical distancing rules, numbers are highly restricted.
Please book to confirm your place via the link below.
https://forms.gle/Pjg3JY8qfh6ZxfWv7
You will receive a confirmation email with details for payment.
Tickets for courses with limited seats are allocated by order of payment.
(Contact me for any clarification)

CREATIVE RELATIONSHIPS ©
is the notion I have designated for when we:
– consider each person's individual values and boundaries
– establish agreements that take into consideration each others' requirements
– express ourselves honestly and discuss the challenges that may come with it
– discern personal beliefs from those imposed by society and circumstances
– share intentions and set up strategies that help developing the relationships we want.
CR © COACHING PROGRAMME
Through the applications of several personal development and mindfulness disciplines, participants develop transferable tools and feel empowered to:
– have clear and open conversations
– express needs, desires and longings
– deal with fear of rejection, abandonment, abuse
– dream and plan for their relationship projects.
– overcome disagreements and transform conflict into connection
WHY I DO THIS
I aspire to share tools that lead to real connection, intimacy and good health with as many of you as possible, and discover even more what is to be myself through the eyes of others.
I am also passionate about the role of partnerships in the deep path of personal development and I love exploring the creation of relationships where we all feel seen and free, whether following traditional or less conventional arrangements.
********************
ABOUT ME
I am an experienced tutor and speaker in the wellness industry, supporting my clients achieving and maintaining excellent wellbeing.
As a researcher, I started by investigating the function of ecosystems and have been applying the concept of sustainability to human health and relationships. Applying my strong educational professional skills in functional health, nutrition, stress & relationships management, corporative culture, mindfulness & yoga, I have founded the Applied Sustainable Health platform facilitating workshops on leadership and wellness, as well as CPD courses on Primal Health, Kundalini Yoga, and Authentic Relating. I am the creator and mentor at the WOMAN OF ME programme and moderate the associated online international community of thriving women.
Passionate about what makes us healthy and connected, I lecture on the role of pleasure in the healing of trauma and I am devoted to the creation of equitable, prosperous and multi cultural diverse communities.
⭐︎ You can also read more on
https://woman-of-me.com
www.adrianacandeias.com
⭐︎ Social media
https://www.facebook.com/dradrianacandeias/
WOMAN OF ME group
https://www.facebook.com/groups/156406791465032/
INSTA
https://www.instagram.com/womanofme/