Authentic Relating Xmas
Sat, Dec 21st 2019 - Lisbon, Portugal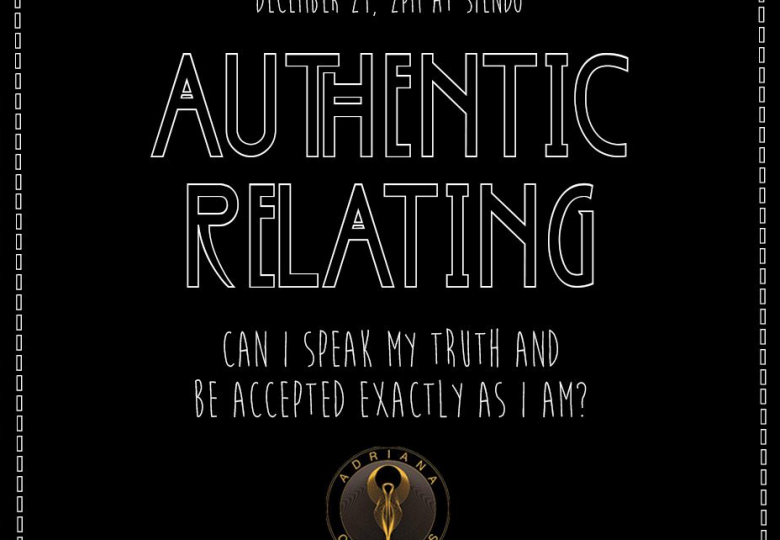 ・Can I speak my truth to my loved ones and be accepted the way I am?
・Is it possible to handle conflict and feel more connected to the other?
・Is there a way of finding endless fun and freedom in my intimate relationships?
・How can I survive these intense family gatherings?
AUTHENTIC RELATING LISBOA
– Special Christmas event –
This festive season is the perfect opportunity to tap into connection, understanding and compassion. With greater awareness of ourselves, we are able to embody the purpose of expanding those values into the new year.
– Take a journey through the 5 Practices of Authentic Relating
– Experience how different ways of interacting show up in our life and in our body.
– Play with levels of curiosity, for others and for ourselves
– Learn how to shift from a boring chit chat into a fun-tastic exchange
– Discover how to express discomfort without feeling guilty.
WHAT IS AUTHENTIC RELATING?
Authentic Relating is a relational technology, easy to learn and practical to apply in all different types of interactions with others, friends, partners, at work, at family gatherings, and with someone we have just met.
AUTHENTIC RELATING IS NOT
– Applicable to real life situations
– Physical embodiment and pragmatic
– Amazing at team building (you will want to teach it to everyone)
– Supportive of community building and family bounding.
We will practice communication games in group, pairs, and triads, reflect and have enough time to discuss ways to apply this into our real life.
Please expect to interact with others, whilst having enough room to do what feels right to you.
"In a materialistic world, most of us crave real connection, intimacy and good health.
★ with people we love and cherish
★ across our personal and work life
★ expressing our life with inspiration and creativity
★ feeling supported by others doing the same
I aspire to share this with as many of you as possible, and help you discover even more what is to be yourself through the eyes of others."
~ Have freedom yet crave deep and intimate interactions with real people
~ Bring wholeness into your interactions with friends, family, and team mates.
~ Exchange more compassion and empathy with others, even in the middle of conflict
~ Take your personal development to a new level of self awareness
~ Communicate deeper during intense times, during transitions
~ Include an embodied practice into your business as a coach, teams manager, trainer, supervisor, facilitator, therapist.
~ Get ready with a new relational technology that offers hope to our future as connected humans.
♥ — ♥ –♥ — ♥ –♥ — ♥ –♥ — ♥ –♥ — ♥ –♥ — ♥ —
Siendo, Calçada das Necessidades 56 Cave Esquerda, Estrela, Lisbon
Please email bookings.primalcreaturebeings@gmail.com to reserve your place and make your payment of 30 euros
♥ — ♥ –♥ — ♥ –♥ — ♥ –♥ — ♥ –♥ — ♥ –♥ — ♥ —
On her journey as a researcher, Dr Adriana Candeias started as a biologist and a naturopath, investigating the function of ecosystems and what makes us healthy. In the last decade, she has been applying the concept of sustainability to human connection and relationships, from which she designed several holistic programmes. Adriana's vast and diverse studies support her work as a wellness strategist, working closely with patients from her clinic in London, lecturing professionals on the role of pleasure and healing, and coaching teams on communication & feedback process. Adriana is the designer and facilitator of the WOMAN OF ME programme and moderates women circles and her international online community.
She is often consulted for her unique ability to merge the scientific with the spiritual and considers Authentic Relating one of her most pragmatic and supportive tools for connectedness with ourselves and others. Adriana teaches the 5-practices of AR as developed by
ART International
.
♥ — ♥ –♥ — ♥ –♥ — ♥ –♥ — ♥ –♥ — ♥ –♥ — ♥ —
Primal is an environmentally, socially and psychologically regenerative gathering dedicated to empowering people with skills to be self-sustainable in their day-to-day lives. We come together as a community to regenerate ourselves, our relationships and the earth simultaneously to build, plant and grow on the land we are on while practicing a culture of regeneration.
Our intention is to become a sustainable gathering model that can be used to restore forests and ecosystems all over the world, planting seeds to a more sustainable future. Leaving people and places better than how we find them physically, emotionally and spiritually.
The greatest gift of all is to be loved unconditionally
Want to hear about more of our events?
* Join our
Primal
community
♥ — ♥ –♥ — ♥ –♥ — ♥ –♥ — ♥ –♥ — ♥ –♥ — ♥ —