WOMAN OF ME weekend immersion
with Ceremonial Cacao, in association with Ritual Eros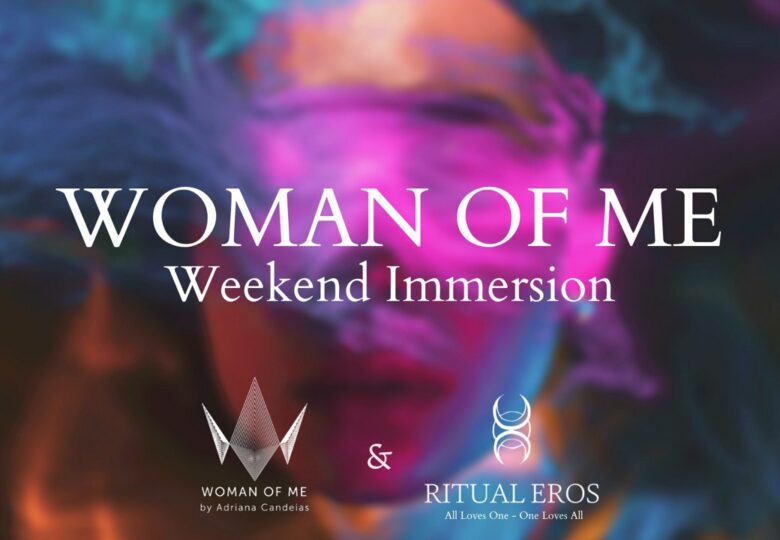 The WOMAN OF ME programme is a self-discovery experience carefully designed for you to relate to your desires, fears, secrets, insights and dreams and embrace your power in a truly embodied form.
– How do I express my desires and ask for what I need?
– How do I respect my true "no" without fear of conflict?
– How do I know what it feels to be really myself?
– How often do I reveal compassion and kindness to myself as I do to others?
Following a gradually set and ritualistic contained space, you will explore a connection with a more authentic, intimate and empowered version of yourself and cultivate it within your own boundaries.
The WOMAN OF ME is your inner wisdom.  The WOMAN OF ME is your revealed self.  She may consist of a final goal, a set of skills and tools, a new idea or expression, a version of yourself that is unique to you, in this moment, here, that truly serves you, in:
Authenticity and openness
Self-responsibility and consent
Presence & intimacy
Health & connection
WOMAN OF ME – Weekend Immersion
⭐️ Saturday & Sunday, Feb 11th – 12th
⭐️ 10:00 am – 6:00 pm
⭐️ London (RSVP for details)
⭐️ Early bird ticket £347 (until Feb 6th)
⭐️ General admissions £497 (concessions and multiple ticket discount available)
⭐️ Community discount (contact organiser for more details) £310

⭐️ Book here: Fill in this form and make a payment to reserve your spot
★★★★★ "Since this programme, I feel the support of the WOMAN OF ME in everything I do. I feel I have let go of some of my fears. I feel empowered with my vision of Her."
★★★★★ "I left with a different way of seeing myself, that I am a beautiful woman, I am not alone, I am capable and I accept myself. A different way of seeing the world."
FORMAT OF THE IMMERSION
During this journey, you tap into the very essence of what makes you a unique woman and from that place you will be inspired to reach for what you need and receive love.
In the course of two days, we will go through a personal journey, departing from vision and ideals, through obstacles and blocking patterns, into projects and actions. Exercises of self-reflection, authentic relating, movement, contemplation and a continuous meditation may be individual, with one or more partners and collective.
I will guide you in an immersive journey to find your own answers, in different areas of your life, e.g. health and self-image, relationships and sex, career and professional choices.
If your life needs a change, an important decision is near, this could be a perfect moment for your WOMAN OF ME.
Two special seminars on the role of pleasure in healing and love nutrition will be included.
The training is consolidated through an honouring ceremony at the end of the day, with ritual cacao.
The individual and collective experience of this workshop may help you to grasp new tools to communicate with others, at work and socially become familiar with obstacles to express yourself gain confidence to speak and hold space for your boundaries create opportunities to identify insecurities and fulfil your desires design truthful and connecting interactions develop intimate and ever-growing loving relationships establish habits of self-care and maintain these heal sisterhood wounds and find the power of female community reprogram your self-esteem factors and have deeper intimacy start courage conversations and set up fun containers with your partner(s).
★★★★★ "I thought I was doing my best to communicate with others. Yet, for some reason, I did not feel heard, respected. Now, I am more in touch with what I really want, I feel I am creating my life and it is going really well."
SCHEDULE
Day 1 (10am-6pm): Discovery. Arrival and set up context as a group. Exploration of womanhood, belief systems and self-enquiry. Meeting the WOMAN OF ME. Expanding your personal vision and purpose.
Day 2 (10am-5:30pm): Authentic communication of desires and boundaries. Female intimacy, sexuality and vulnerability. Identifying saboteurs and befriend your fears. Expressing your unique identity. Manifesting concluding ritual.
Please make sure you arrive on time, every day. We hold the values of starting together, co-create a container of self-responsibility and cooperation, as well as completing as a group. If you know you are going to be late or having to leave earlier, let us know as soon as possible. Doors open 20 mins earlier to allow time for better grounding.
★★★★★ ""Yes! What a treat! I participated in a WOM in London and left with real insight in how to move forward in a direction that brings me joy and fulfilment. Adriana is all about authenticity. I'm not sure I would know the meaning of the word without her. Highly recommend this workshop!" EO
WHO IS IT FOR
This WOMAN OF ME immersion is open to all women, females, born with vagina, regardless of your relationship with your identity, ethnicity, sexual orientation, experience level, and religious beliefs willing to:
– discover different parts of yourself longed to be expressed
– identify tools to make your dreams come true;
– practice consent tools and establish safe and individual boundaries;
– learning non-verbal cues to express your truth to yourself and others;
– dedicate some time for journaling and set up action steps
– embody knowledge acquired in a group setting though movement and stillness
– find inner wisdom, available and sustained at all times, independently of outside circumstances.
– be nourished by diverse self-love structures;
– learn physical, mental and spiritual techniques that support your continuous path of self-discovery.
Discover Her and allow Her to guide you the way. This is a journey for women who cannot afford to stay in denial, ignorance or oblivion anymore, that know there is something more to you than what meets the eye.  The WOMAN OF ME cherishes what differentiates us whilst celebrating experiences that may unite us all.
This immersion is suitable for all levels of experience, from beginners on the journey of self-development to 'workshop veterans', ideally willing to participate and reveal your experience within an intimate group setting guided by an original facilitation style held in the values of self-responsibility, and safety.
AGREEMENTS UPON REGISTRATION
Due to the nature of this training, partial attendance to the weekend is not permitted. Please commit to the full programme on registration.
The course does not serve as therapy and no diagnosis will be given at any stage. However, rest assured you will have the opportunity to be held during your potential uncomfortable process and taken through the stages feeling safe, with curiosity and fun.
Your participation in this training is strictly confidential. All course material is copyright protected and no part may be stored and/or transmitted without author's written permission.
★★★★★ "I feel empowered with my vision of my WOMAN OF ME. I've gained clarity in how to ask for my needs and wishes. It was such an empowering, liberating and transformative workshop…"
LOCATION
The event's venue is a workshop space in NW5 London, easily accessible by public transports and near local shops (Tube: northern Line & Overground). Address details are sent to registered participants nearer the time.
FOOD AND DRINKS
During the duration of the event there will be plenty of breaks during which we ask you not to leave the premises. You may bring your own lunch or visit the local shops during the 60 mins lunch break. Light healthy snacks and hot drinks will be provided.
PLEASE BRING
– Your mug / hot drinks container
– Water bottle
– Any favourite snacks. (For those moments when you fancy that special treat)
– notebook and pen
– comfortable and layered clothing (we will be moving and sitting still, so prepare for the range of body temperatures)
– blanket to be covered with during meditation.
– warm sleepers / thick socks.
YOUR FACILITATOR
★★★★★ "Adriana is powerful and creative and I enjoyed her non-linear journey of transmutation. I have great respect for her academic knowledge and deep consideration of these subjects. I continue to take these tools with me in my daily life."
★★★★★ "The best thing about Adriana is how she embodies what she teaches and her own Woman of Me.' "I gained a lot just by being around that."
ADRIANA CANDEIAS, PhD
Adriana is a wellbeing consultant with over 15 years experience as a therapist, curriculum designer, relationships adviser and executive leadership coach helping organisations and individuals around the globe to establish healthy life styles and successful project performance. Drawing from her scientific and expanded consciousness studies, Adriana creates transformational courses focused on culture transformation and wellbeing self-awareness. In 2016, she founded the WOMAN OF ME programme, supporting entrepreneurial and creative women to lead healthier, more conscious and empowered life styles, capable of manifesting their desired relationships and careers. Moderating an international women community online, Adriana offers group and individual mentorship where she combines a varied wealth of knowledge on diverse topics including female physiological health, fertility & primal health, conscious sexuality, high performance teams, authentic relating, co-active coaching, kundalini yoga and meditation. She is a mother, a doula, a lover of life and a dancer at heart and loves finding the missing links of connection.
https://www.woman-of-me.com/
https://www.adrianacandeias.com/
REGISTRATION
Early bird (before Jan 22nd) £347
Full-price (after Jan 22nd) £497
https://forms.gle/2mFcPH5ejSgGBKrq9
Upon your payment, you will be sent an email with an immersion preparation pack with location details and a little homework to help you initiate your WOMAN OF ME journey prior to the event. Feel free to contact us and track the arrival of our emails via